Electronic components
The electronic part of the robot focuses on programmable component called : the PIC ("Peripheral Interface Controller" or "Programmable Integrated Circuit").
The chosen model is a PICBASIC-3D made by COMFILE technology™ and sold by
Lextronic
. Compared to the other programmable components, the latter contains a "software layer" that makes it possible for you to code in Basic.
It was selected because it is easy to code compared to "usual 'PICS" which must be coded in C language .
Basic circuit of the PICBASIC :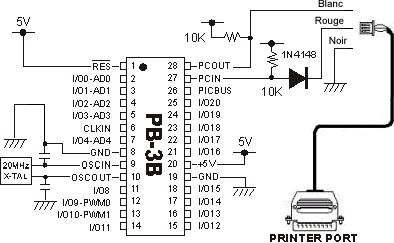 Useful material to cable and run PICBASIC :
PICBASIC-STUDIO is Integrated Development Environment for PICBASIC. It includes Compiler, Editor, Debugger and
etc and has similar usage as a word processor and is compatible with Microsoft Windows 98/ME/NT/2000/XP.
You can get it from COMFILE program CD provided with PICBASIC products or download from download section of www.comfile.co.kr
PicBasic Stio V16 : pbstv16.zip (Zip, 4.84 Mo)
.